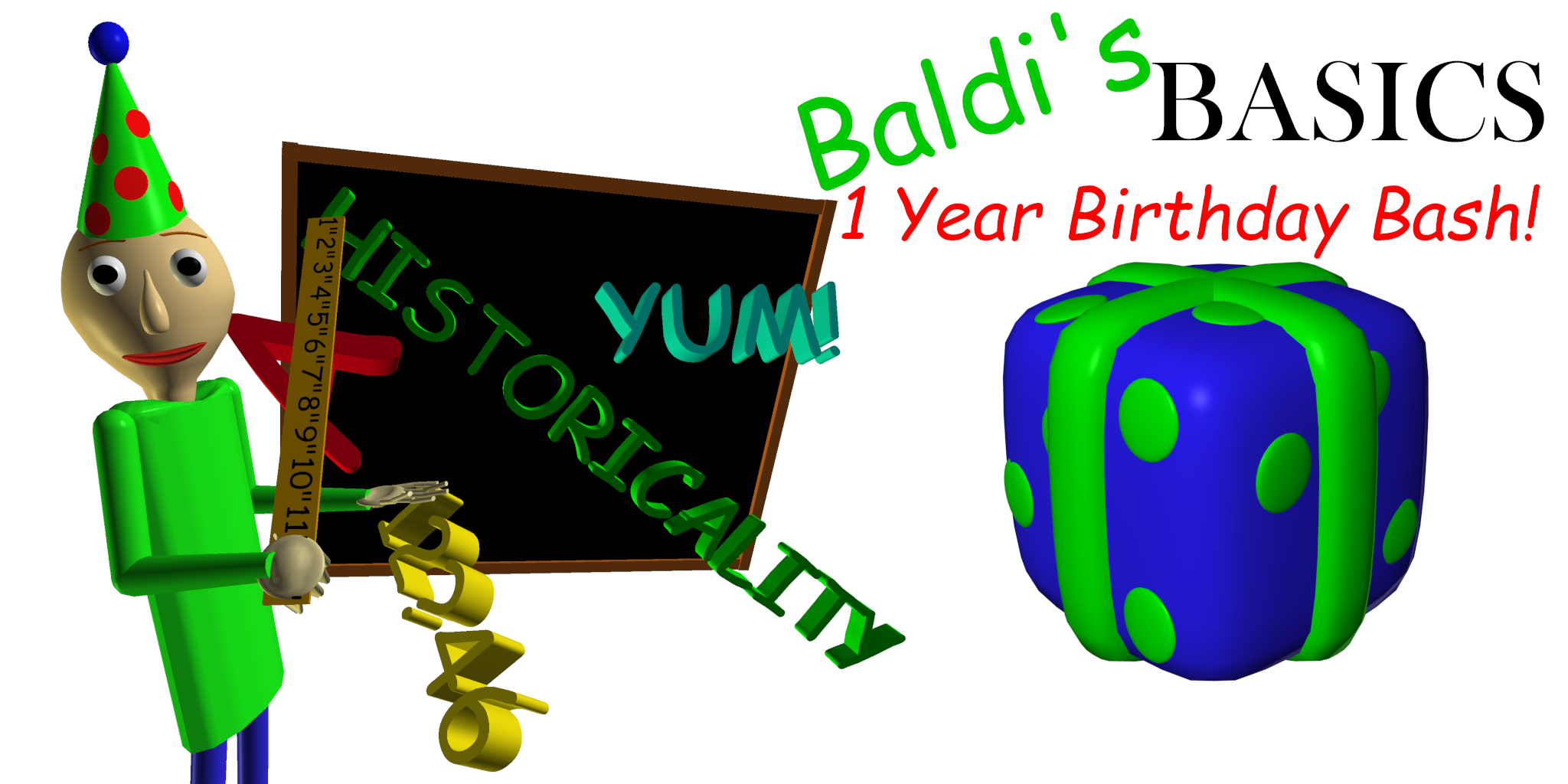 Baldi's Basics Birthday Bash
A downloadable game for Windows, macOS, and Linux

Baldi's Basics is 1 year old!
To celebrate, Baldi is throwing a party! He's wrapped all the items and shuffled them around, so there's no way to know what item you're picking up until you grab it. The food a̷n̷d̷ ̵d̵r̸i̵n̷k̷ ̷m̸a̷c̶h̶i̴n̸e̵s̵ ̵h̶a̷v̷e̵ ̴̨̣̞͓̅ȧ̷͔͙́l̸͙̱͖̏ͅș̵̬͒̇͌o̸̫͕͒̄̈́̽ ̵͚̬͠b̸̡̖͓̜͒̆͗͝e̴̜̗̯̊ĕ̴͇̘͆͗n̸̗̜̯̰̒̈ ̶͈̈́́́̕f̵̧̱̼̗͒̀i̷̝̘͒͋̕͝l̴͎͇̋ľ̵͔͐̐̑ẹ̸͒d̶̼̀͌̚ ̸͕̠̥͚̄w̸̝̒̚į̴͚̑̈́̀t̷̢͆̐̿ḧ̵͎͙ͅ ̶̭̆̎̀̔̒a̸̛̬͇̮͇̼̝͂̎͌l̸̰̘̯̉͆͋̉͗̕ḽ̵̳̘͇̊ ̷̗̈́̋͗̂̿͌ͅs̵̰̜̬̬̉͌o̶̥̜̲̗͖͍̿̐́̂͒̚r̸̮͚̤̲͘t̷̡͎̝͓͕̀̊͋̓͝s̵̢̖̖͛͆̆̍̕ ̸̘̍̀͜o̸̳͇̤̺͋͋͂̊̚̕f̷̙̠̰̻̓͐̀̌̚ ̵̰̣͚̯̀̓̒͛i̴̱̘̓̃̒t̸̛̳̱̥͍͙͉̿͆͗e̶̢̲͉͚͊m̶͔͎̓̃͒̃̿̔s̷̨̫̮̙͂͆́̿̍̂,̴̟̰̺̼͊́͌́͝ ̶̡̠̯̦̯͠y̶̢͆͋͂ǫ̶̥͖̂ữ̶̹͉̪̙̫̈́͂̒͜ ̶̡̝͕̤̪̲̻̾c̵͔̪̱̟͖͎̻͍̳̿͂̅̾̉́̕͠ͅo̶̧̢͙̘̣̤͓̞̼̯̙͆̏͋͑̆ͅu̵̜̜͉͐l̴̢̢͔̤̹̫͙̲̤͕̖̱̑̉̀̑͜ͅd̶̤̾̓̄̌́̆̑̈́͂̚͝͝ ̵̧̡̫͉̜̰̳̻̰̏̕͝g̷͍͔̼̬͇̗̪̳͌̓̈́͑̍ͅe̷̙̬̊̍̏͝t̷͉̏̌͛̄̂̾̽̈́̑͗̚ ̷̨̣̲̈́̇̒̀̑̽̈́̋̂͝ą̶̛͓͚̖́̽̎͝n̶͕͕͍͍̼͚̻͗̊͜y̸̧̢̻̯̪͕̌t̵͉̪̣̮͂͒̂h̶̝̤̮͎̦̳͚͝ͅi̵͕̲̣̳̋̾̓̾̓̓͜n̴̜̻̓̓̏͛͐̆͋̏̍͐̆͝ģ̵̥̞̫̩̖̬͚̌̉͝ ̴̨̧̹̥͍̘̫̼̂̄̓͌̚͝͠w̴͚̰̹̼̬͈̝̻̱͍̖̻̉̀̃͜i̸̛̯̼͇̐͝t̵̡̮̪̖̜͒͑̀͂́̕͝͝ͅḩ̵̰̠͍̣͔̗̗̈̆̀͛̑͛̌̈́ DON'T DOWNLOAD THIS GAME EITHER! It's... It's somehow worse than before. If you didn't trust me before, you best trust me know, because if you mess t̴̰̒h̷͎̔i̸͖͊s̵͎͠ ̸̜͐u̸̗͠p̸̺̔ ̶͙̈́ṫ̸̤h̷̬̾e̸̛͎ř̸̦e̸͙͆'̴͔̚s̵̤̅ ̷̰͝ṅ̵̬o̷̩̽ ̵͉̱͖̊̍͌t̶̰̤̿̈́̀̚ṷ̴͉̝͂̍̍̈r̷̨͓̠̝̄̓̀ņ̸̠̜͚͝î̶̛̬͎̳͛̚n̵͔̘̯̫̐͆̈́͝g̸̟͚̜͋͒̈͠ ̸͉͎̽̉͊b̵̡͈͉̈́͛a̶̩̯͔͖̾̋c̴͎̐͐͌k̴̻͕̯̂ͅ.̵̧̲͗ ̸̟̣̣̌̆Ÿ̵̭̮̺͓̰̭́͋̉͋͝o̶̢̢̮̮̖̱̾̐̅̽͛́̓̕͠͝ụ̶̢̞͔͔͙̯̞̘͆̃͐̽͊̄̅̒͘̕̕'̵̞͙̤̦̱̪̞͋͑̂͝r̶̨͎͈̖̲̪͙̪̋é̷̛̝̾̽͒̔͑͘ ̵̡̨̹͉̜͎͓͎͂́̈́̂̔̋͊̀̎͝ͅͅa̶̢̪̜̟͖̪̐̍͋͗̈́̏͗̉̍̑͘c̵̡͕̱͖͍͓̼̰̀t̸̳̥̱̳̲̝̦͊̉̊̑̋̉̇̊͝ȋ̵̧̨̟̘̟̤̹͙͂͋͐͋̂̇̓̋͘̚͜ǫ̸̨̯̬̺̯̰̥̫̯̬̽̈́̎́̚ň̸̄̾̈́́̓̋̌͘͜ş̵̙̰̦̞͉̼̥̏̎̿͂̏͒͗̈́͝ ̶̨̡̣͓̺͙̖̑̒̐̇̒̊̏̆̀̾c̶͙̼̣̗̑̈́͋̑̄̍̓́ȯ̶̻̬̥͋̋̏͛̈́̒̕ủ̸͚̙͕̹̤̟͉̗͒l̴̛̮̻͖̑̂̆̆d̷̢̡̛̳̠̫̜͙̱͑̌̄͌̈́ ̴̠̜̥̻͓͖́̇̔͗̉͝ͅp̷͔͔̺͖̻̙̓̌͐ͅu̷̧̫̩̟̯̤̞̞̯̐̃̀t̵̻̓̇͆̐͑̀͂̾̋̎̔ ̶̡̢̮̤̝̦͖͎̥̞̯̟̺̻͙̫̲͕̼͍͓̲̼̎̈́̉͜Ȩ̶̢̡̧̜̱̯̫̮̤̦̞̻̙̫̠̻͓̹͓͎̩̪̐͌̽̌̽̿̒͋̒͘V̵̞̣̟̙͆͌̀͛̏̃͒̚͝͝͠Ę̸̡̗͚̱̬̰̼̣̪̙̗̬̰͖̖̖̹̗̩̯̇̓͗̈́͋̐̽̆̊̽̿̽̚͜͜R̷̨̟̤̩̺͖̣͑́̂͐͆͛̓͌̈́Ý̴̢̨̡̛̛͔̝̱̠̬͕̗̈́͋̑̐̄̋̒͒̾̅̑͋͑͋O̶̲̹̥̫̾̈́̋N̷̨͇̤̳͈̥̗̍̀͋̐͌̇̓́͆͑̒͘ your quarters! Laugh, play, laugh again with Baldi and co. at this cRaZy party!
What's new?
This is the original Baldi's Basics, but with a few twists! Here's what's new!
All the items are shuffled around each time you play, so you'll never know where each item is.
They've also been wrapped up! No way to know what an item is until you pick it up and unwrap it!
The food and drink machines can now dispense any item.
Two new items have been added!
The school has been filled with balloons and a cake, and some of Baldi's friends have dressed up for the occasion.
A brand new ending as thanks for making the past year so incredible!
Social Media
Twitter: @mystman12
YouTube: https://www.youtube.com/channel/UCjSpEbeRvUwAJByfKXyIwBA
Facebook: https://www.facebook.com/BasicallyGames (I don't use this much)
Instagram: https://www.instagram.com/mystman1210/ (I also don't use this much)
Website
The official website of Basically, Games! https://www.basicallygames.com/
The Full Game
Go here for updates on the progress of the full game! https://www.kickstarter.com/projects/193364415/baldis-basics-in-education-and-learning-full-game/updates
Merch

Install instructions
To access the game's settings, launch the game, and then hold ALT.
Download the desired .zip file for your platform. Extract all the files from the .zip file, making sure all the files are in the same folder. The easiest way to do this on Windows is to right click the "BaldisBasicsBirthdayBash_Windows.zip" file, select "Extract All..." and then click the "Extract" button on the window the pops up. This will put all the files in a new folder of the same name as the .zip file. Activate the game from this new folder, and feel free to move the folder wherever you want, so long as you don't move any files out of the folder.
Windows users, you may receive a "Windows protected your PC" popup when trying to run the game. To bypass this, simply click "More info" and then "Run anyway" to continue.
Linux users, you may have to access the game's permissions and check "Allow executing file as program" to launch the game.
Android users, follow these steps to install the game:
Click the download button next to the file "BaldisBasicsBirthdayBash_Android.apk" on the game's main page.
When you click the download button, you will likely see a warning telling you that this kind of file can harm your device, and if you still want to keep it. Tap OK/Yes (Whatever your device says) in order to continue.
The file will begin downloading. Once it's finished, one of two things could happen.

You will see the file name pop-up on the bottom of your browser's screen, with an option to open it. Tap open to continue.
You will not be prompted with an option to open. If this happens, go to your device's Files app (May also be called Downloads, or something similar), and navigate to the downloads folder. Find the Baldi's Basics Birthday Bash file (Again, it should be called "BaldisBasicsBirthdayBash_Android.apk") and tap it.

If a warning telling you your phone is not allowed to install unknown apps through your browser pops up, tap settings to go straight to the settings menu where you can change this option. Turn on the "Allow from this source" switch for your browser. Then go back to the screen you were on before. Make sure that you turn this option back off once you are finished installing the game to ensure your device is secure.
Now you should be on a screen prompting you to install Baldi's Basics Birthday Bash. Tap install to start the process.
Once the app is finished installing, you should be able to tap "Done" to leave the screen, or "Open" to go straight into the game! Enjoy!
Again, if you enabled the ability for your browser to install unknown apps during this process, it is highly recommended you go back into settings and disable this option again for your device's security, unless you regularly install apps through your browser.