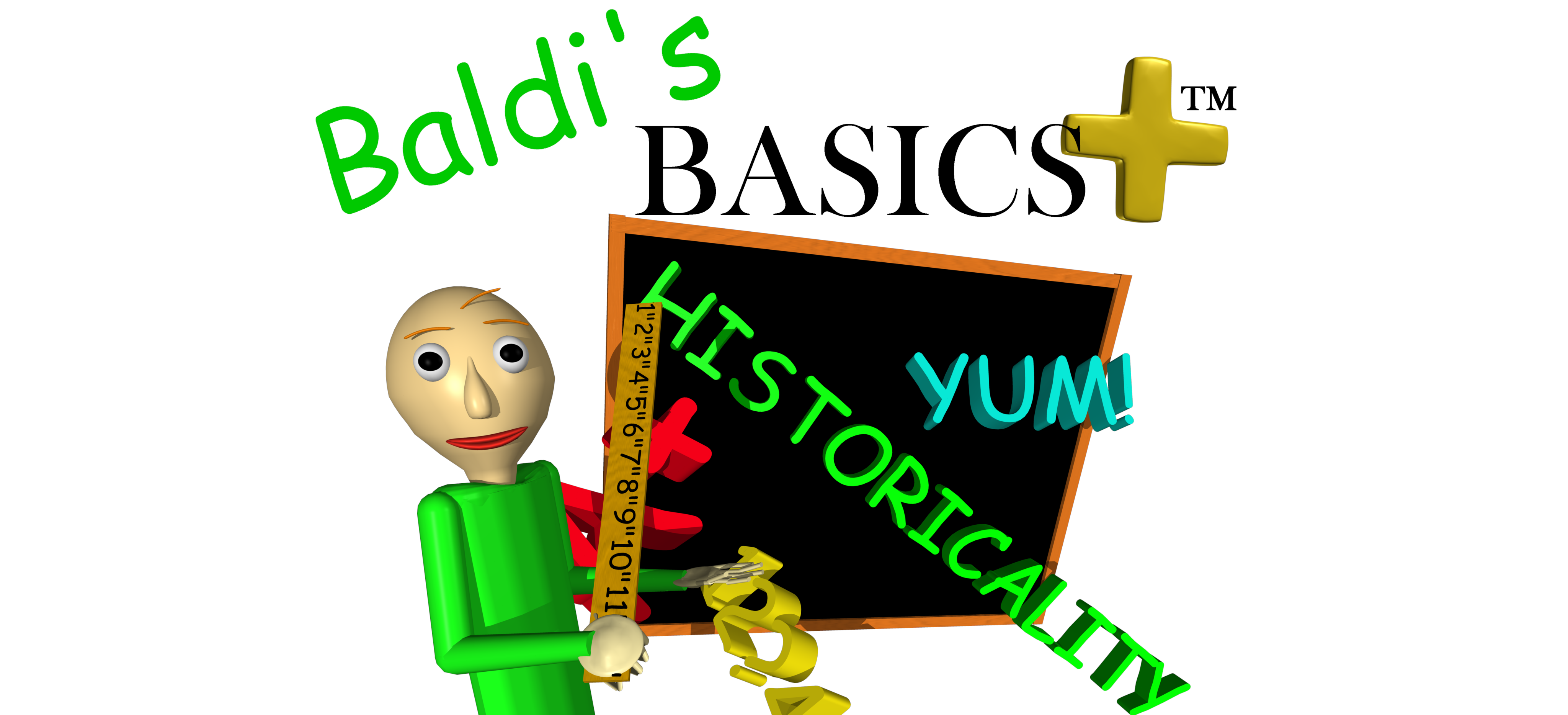 Baldi's Basics Plus
Version 0.1.2 of Baldi's Basics Plus has been released! Here's what's changed:
Adjustments
Playtime now gets sad when you cut her jump rope.
Mrs. Pomp's timer will disappear once her class is dismissed.
Gave Mrs. Pomp a new voice line for when she spots a player.
The Principal whistle now makes the Principal of the Thing come to your location super fast. This is accompanied by a new voice line (This item will become even more useful once PotT will be able to send NPCs to detention in a future update).
Nerfed Principal of the Thing. Once aggroed, it is now possible to lose him. He will travel to the last location he saw you, and if he doesn't see you again at this point he will begin wandering until he sees you again. He will remain aggroed until he manages to catch you.

This does not apply to the Stealthy Challenge.

Nerfed Gotta Sweep

Slowed him down slightly.
He now longer sweeps with a force equal to his velocity. Now the force is a bit less, meaning the player and NPCs will slowly phase through him instead of always being at the forefront of his sweep.

WD-NoSquee can now be used on blue lockers! Silenced lockers can be used three times before they start making noise again.
Nerfed Beans' gum. It does not slow the player down as much as before. It still effects NPCs the same as before, however.
Safety Scissors can now be used to cut off Beans' gum.
One-way swinging doors can now be traveled through in any direction while open.
The version number on the main menu can now be clicked to view all devlogs on Itch.io.
Bug fixes
Fixed a game breaking error that would occur if the NameList.dat file is corrupted. If the file is corrupted, the game will now search the save directory for save files and create a new NameList file based on the existing saves.
Mrs. Pomp will no longer chase the player while they are wearing a name tag.
Fixed the Baldi "jump scare" only working sometimes.
Fixed a bug that allowed players to place portal posters on walls adjacent to the edge of the level.
Detention time will now properly jump to 99 after reaching a 60 second detention, instead of maxing at 65.
Fixed some missing and incorrect subtitles.
Playground trees should no longer occasionally appear dark.
The map background is no longer effected by fog.
Fixed a few names that were cut off the sides of the screen in credits on 4:3 displays.
Subtitles no longer appear while inside the library.
Fixed a typo in farm field trip description.
Fixed the "jump scare" audio continuing to play when re-trying a level.
Fixed some environment audio loops not being effected by volume settings (Changes made to settings only apply to sounds that begin playing after changes are made)
Fixed the You Can Think Pad not rendering on certain challenge maps.
You can no longer see the game in the background when using the control mapper mid-game.
Fixed the bear traps using a placeholder sound.